Apr 29 2021
At a protest march for racial justice, Terrell Harper went on a racist tirade against a Chinese NYPD detective for 15 minutes. Terrell Harper yelled at the Chinese detective a foot away from his face (which likely exposed the detective to Terrell's spit as well during COVID). This was caught on video and released by the NYPD.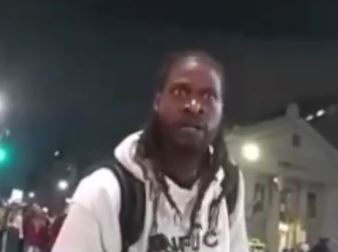 Suck a dog's d—k, p—-y. Then cook it and eat it in front of your mother.
Have a goddamn tea party
Soy sauce! Soy sauce!

-racist rant by Terrell Harper against Chinese police detective
Vincent Cheung, the Chinese-American NYPD detective, announced that he was suing the protester who was caught on video hurling racist, anti-Asian insults at him. However, an "Asian American activist" went on record with the New York Times to defend the racist Terrell Harper's actions.
Megan Watson, a Korean-American organizer who has attended several marches with the racist Terrell Harper, defended his racism on the record to the New York Times.
[Megan Watson] agreed that the lawsuit was a way to scapegoat a protest leader and deepen longstanding tensions between the communities. She compared Mr. Harper's monologues, which she had observed, to comedic roasts, but said that she had not heard him use anti-Asian language before. She had, however, spoken to him about the video, she said.

-Megan Watson's defending the racist speech by racist Terrell Harper
It is especially disappointing when "Asian Americans" sell out their fellow Asians for clout. These sellouts try to hide their racism with "As an Asian, [negative comments about Asians]" or "I'm Asian too so this isn't racist but [negative comments about Asians]". Racism is based on actions, not the race of the perpetrator. There is no free pass to be racist against Asians just because of your race.
Links:
Video clip of the racist tirade – New York Post article with clip of the racist tirade
Black on Asian crime statistics – shocking stats on the disproportionate black on asian violent crime
Democrats vote AGAINST Asians – Republicans propose a bill banning federal fudning for colleges that discriminate against Asians, but most Democrats vote against