There are tons of free things you can get in NYC. You can get free access to museums, free art gallery admission, free movie streaming, free art shows, and much more. While there are free events happening all the time, here's a list of some of the more comprehensive and useful free resources to enjoy in New York City.
Free Condoms
New York City provides FREE condoms through the Condom Availability Program (NYC CAP).
What do you get?
The condoms currently available are:
-Lifestyles Regular
-Lifestyles KYNG (extra large size condoms)
-Lifestyles Sensitive
-Lifestyles Mutli-Color
-ONE brand condoms
-lube
-female condom
NOTE: The male condoms are rebranded and say NYC Condom on it. However, they are the same condoms from the same manufacturers. Ansell (maker of Lifestyles condoms) makes and brands these as NYC Condom but they're actually Lifestyles.
How do you get it?
You can call 311 and ask for the nearest location. I usually go to the LGBT Center at 14th St on the west side of Manhattan. They have great hours and large supplies of free condoms available.
If you want to be a distributor, you can get free condoms mailed to you by New York City directly.
---
Free Lead Testing
New York City water is almost lead-free when from the City's upstate reservoir system, but it can absorb lead from solder, fixtures, and pipes on the way to your home.
Lead is a major health risk. Within our bodies, lead is absorbed and stored in our bones, blood, and tissues. It does not stay there permanently, rather it is stored there as a source of continual internal exposure. Generally, lead affects children more than it does adults. Children tend to show signs of severe lead toxicity at lower levels than adults.
Luckily, NYC provides free lead testing kits along with free professional lead testing in a laboratory. Lead is a health hazard, and can't be detected by taste or sight. So NYC provides free lead testing kits and laboratory testing.
What do you get?
-water testing kit (2 bottles, instructions, packaging
-return postage for sending to lab
-lab testing (results will be mailed back to you)
How do you get it?
You can request your FREE water lead testing kit here. It takes roughly 10 minutes to follow the instructions. The actual water collection takes 2 minutes. It's free and easy, so keep your family safe by getting your water tested today.
---
Free Museum Access – idNYC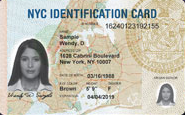 IDNYC is the new, FREE identification card for all New York City residents, which gives all of us the opportunity to show who we are—New Yorkers.
IDNYC cardholders can access services and programs offered by the City as well as by businesses. IDNYC is accepted as a form of identification for accessing numerous City programs and services. IDNYC also provides a dynamic series of benefits to cardholders, including a free one-year membership at many of the City's leading museums, zoos, concert halls, and botanical gardens.
What do you get?
See bottom of page for lists of museums you can get free access to.
How do you get it?
Apply for your idNYC card at: http://www1.nyc.gov/site/idnyc/card/how-to-apply.page
---
Free Museum Access – Donation Based or Free Days
Many museums have a "pay what you want" option. They are required to have this option if they receive funding from the city under a special program. However since the museums are run independently, they don't advertise this option because they want you paying full price.
The Department of Cultural Affairs' mission of fostering dynamic public partnerships with private cultural organizations has its most dramatic expression in its relationship with the Cultural Institutions Group (CIG). The 33 members of this group are each located on City-owned property, and receive significant capital and operating support from the City to help meet basic security, maintenance, administration and energy costs. In return for this support, these institutions operate as publicly-owned facilities whose mandate is to provide cultural services accessible to all New Yorkers.
For example, at the Museum of Natural History, you can opt to pay $0.01 for admission. Of course they don't advertise this widely, but my friend has confirmed this works. You just need the courage to stare into the staff's eyes and tell them you're going to pay $0.01. Stand strong, and don't be badgered into paying more. Your taxpayer funds support them already so you deserve access for $0.01!
What do you get?
Access to many museums and art galleries for $0.00 to $0.01
See bottom of page for list of free/donation museums.
How do you get it?
Check the website of each institution carefully. They don't advertise so you'll have to dig it up. A hint is to Google for "[institution name] free". For example, Google search for "Bronx Zoo free" and you'll find that it's free on Wednesdays 🙂
---
Free Movie Streaming


It's no Netflix, but free is free. This is mostly for documentaries and educational films. However it contains a fair amount of Hollywood classics and foreign cinema as well.
New York Public Library (covering Manhattan, Bronx, Staten Island) and Brooklyn Library (covering Brooklyn) both provide online streaming access in partnership with Kanopy.
A New York Library card gets you 10 movies per month, and a Brooklyn Library card gets you 6 movies per month. Anyone in NYC can get a library card from both systems. The NYPL and Brooklyn Library are separate systems but all New Yorkers are eligible.
What do you get?
10 movies per month per New York Public Library card
6 movies per month per Brooklyn Library card
Get both library cards to stream 16 movies a month for free 🙂 Or double up with your girlfriend/boyfriend for 32 movies per month.
How do you get it?
Sign up for a library card at each of Brooklyn Library and New York Public Library (any branch will do). Then go to:
http://bklynlibrary.kanopystreaming.com/ and enter your Brooklyn Library Card
http://nypl.kanopystreaming.com/ and enter your NYPL card
You can use the same Kanopy account for both library accounts, just use the right website address to use your allotment for each account.
---
Free Ferry Rides – Staten Island Ferry

The ferry operates 24 hours a day, 7 days a week, running every 15 to 20 minutes during peak hours and every 30 minutes at other times. It provides a great view of Statue of Liberty and can be a fun ride for dates or bringing out-of-town friends on.
What do you get?
You get completely free round trip ferry rides between Staten Island – St George Terminal and Manhattan – South Ferry station.
How do you get it?
From Manhattan, go to Whitehall Terminal (4 South Street, New York, NY 10004) to board the free ferry.
BEWARE OF SCAMMERS! You'll likely get approached by scammers wanting to sell you Statue of Liberty tours and other rides. IGNORE THEM and do not pay them anything. See here for a list of common scams in NYC. Stay safe and enjoy this free perk.
---
Free Workouts and Gym
See this guide to free gym to learn how to workout for free in NYC or any city.
---
Appendix
idNYC Museum List
You get free access to the below with idNYC:
American Museum of Natural History
BRIC
Bronx County Historical Society
Bronx Museum of the Arts
BAM (Brooklyn Academy of Music)
Brooklyn Children's Museum
Carnegie Hall
Center for Performance Research
Central Park Zoo (enrollment is only available at the Bronx Zoo)
China Institute
The Drawing Center
Film Forum
Flushing Town Hall
Jamaica Center for Arts & Learning
Jacques Marchais Center for Tibetan Art
Lincoln Center for the Performing Arts
Metropolitan Museum of Art
Metropolitan Opera
Museum at Eldridge Street
Museum of Arts and Design
Museum of Chinese in America
Museum of Jewish Heritage
Museum of Modern Art
Museum of the City of New York
New York Aquarium (enrollment is only available at the Bronx Zoo)
New York Botanical Garden
New York City Ballet
New York City Center
MoMA PS1
Park Avenue Armory
Pregones Theater
Prospect Park Zoo (enrollment is only available at the Bronx Zoo)
The Public Theater
Queens Museum
Queens Theatre
Snug Harbor Cultural Center & Botanical Garden
St. George Theatre
Staten Island Museum
Studio Museum in Harlem
Sugar Hill Children's Museum of Art & Storytelling
Symphony Space
Wave Hill
Wildlife Conservation Society at the Bronx Zoo
Free or Pay What You Want Museums
American Museum of Natural History
Bronx County Historical Society
Bronx Museum of the Arts
Brooklyn Academy of Music
Brooklyn Botanic Garden
Brooklyn Children's Museum
Brooklyn Museum
Carnegie Hall
David H. Koch Theater (formerly the New York State Theater)
-New York City Ballet
El Museo del Barrio
Flushing Town Hall
Jamaica Center for Arts & Learning
Lincoln Center for the Performing Arts, Inc.
Metropolitan Museum of Art
MoMA PS 1
Museum of Jewish Heritage
Museum of the City of New York
Museum of the Moving Image
New York Botanical Garden
New York City Center
New York Hall of Science
Public Theater
Queens Botanical Garden
Queens Museum
Queens Theatre
Snug Harbor Cultural Center & Botanical Garden
Staten Island Children's Museum
Staten Island Historical Society
Staten Island Museum
Staten Island Zoological Society
Studio Museum in Harlem
Wave Hill
Wildlife Conservation Society
-Bronx Zoo
-New York Aquarium