April 22 2021
Senator Ted Cruz (Republican-Texas) proposed amendment #1456 to prohibit federal funding for any institution of higher learning that discriminates against Asian Americans in recruitment, applicant review and admissions.
Amendment #1456 Text:
SEC. 6. PROHIBITION OF FEDERAL FUNDS FOR INSTITUTIONS OF HIGHER EDUCATION THAT DISCRIMINATE AGAINST ASIAN AMERICANS.
Notwithstanding any other provision of law, no institution of higher education (as defined in section 102 of the Higher Education Act of 1965 (20 U.S.C. 1002)) may receive any Federal funding if the institution has a policy in place or engages in a practice that discriminates against Asian Americans in recruitment, applicant review, or admissions.
Senator Cruz's amendment would have penalized colleges and universities that discriminate against asians based on race. The amendment was supported by 49 Republicans and against by 48 Democrats, which didn't meet the 2/3rds threshold to pass. This shows that Republicans want to protect Asians from racial discrimination but Democrats want to keep that discrimination in place. Yet another example of how Democrats are racist against asians.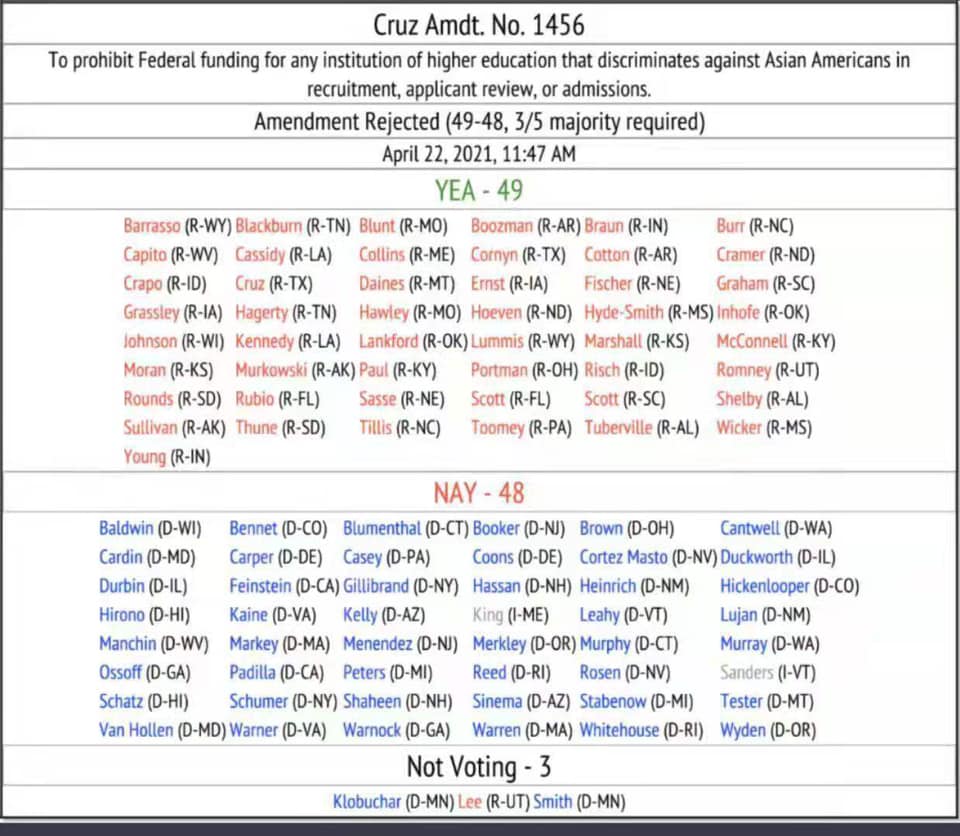 "Despite their calls to end racism, it is clear Democrats are only paying lip service to fighting discrimination against Asian Americans and will allow targeted discrimination against them to continue at America's universities and colleges," Senators John Kennedy of Louisiana and Ted Cruz of Texas said. They issued their joint statement after the Senate killed their proposed amendment to strip federal funding for colleges that factor race into admissions.